Friday, November 6, 2020, Software Engineering Competency-Based Curriculum (KBK), Department of Computer Science Education, UPI held an Agile IT Synergy Plan webinar entitled "IT Synergy with Business in Society 5.0 Era". This webinar presents a speaker who is a lecturer at the Department of Computer Science Education, namely Dr. Asep Wahyudin, S.Kom., M.T., and attended by lecturers and students from various universities.
This Agile IT Strategic Planning webinar is in accordance with its theme, discussing the concept of Agile methodology related to world IT and business in the era of Society 5.0. The Agile Method is a strategic plan that is on the rise in recent times. Not only developed in the IT world, but Agile has also become a multidisciplinary methodology, one of which is in business management. There are fundamental differences that make Agile attractive when compared to traditional methodologies. In traditional methodologies such as Waterfall, channel development is carried out sequentially, while in the Agile method, development is iterative, incremental, and adaptive based.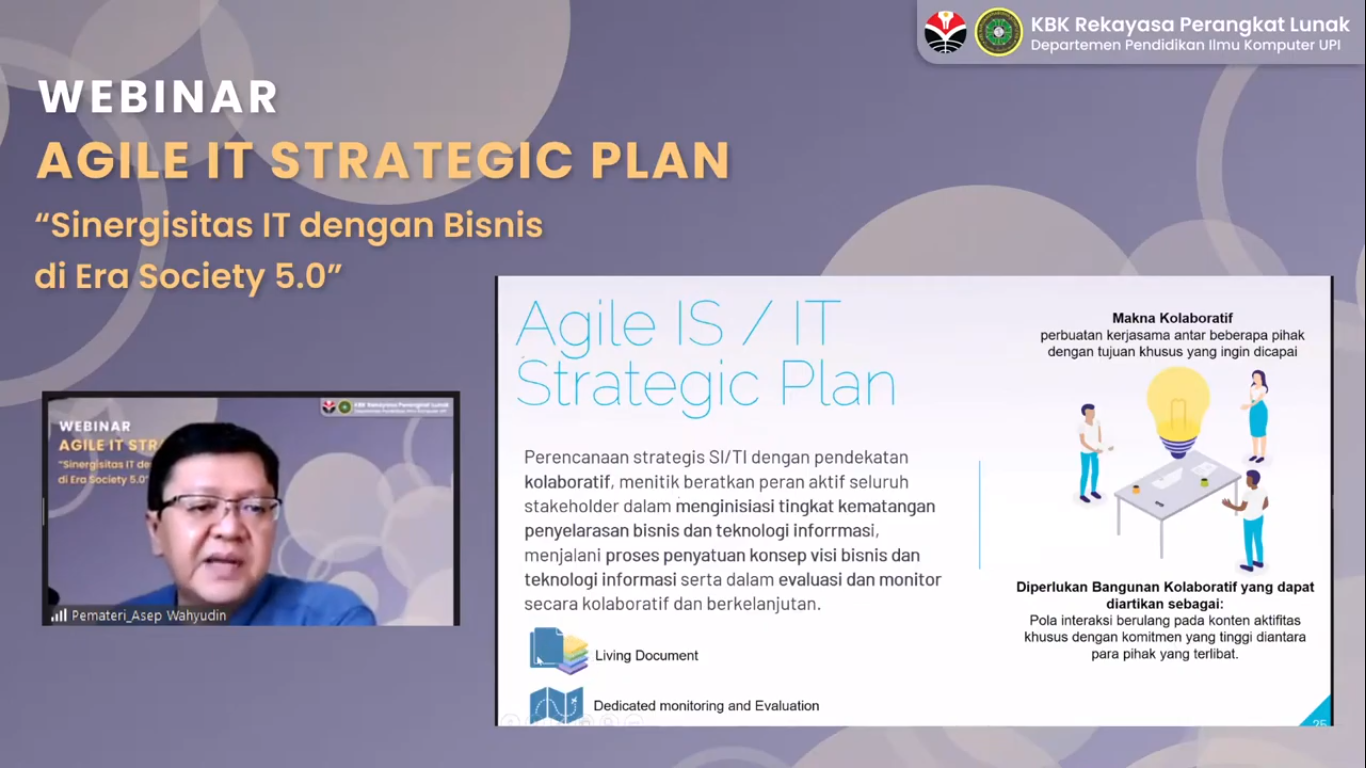 In the era of Society 5.0, technological developments were not limited to information technology. However, the technology developed is in the form of the Internet of Things (IoT), Artificial Intelligence (AI), and various systems that are expected to be solutions for a better human life. So in this case, agility which is the ability to adapt to new changes becomes something important as organizational strategic planning.
The resource person advised if the business management world has already applied this Agile method, of course, the actors in the IT world must start applying this Agile method as strategic planning for information systems and technology. With Agile that is adaptive and people-centric, it will be able to make an organization or business to be ahead of its competitors.
To see more about the Agile IT Strategic Planning delivered by the speakers, watch the webinar live streaming reruns at the following link.