UPI Facilities
---
The following are the components of the Indonesian Education University facilities
---
UPI Swimming Pool
Universitas Pendidikan Indonesia provides a swimming pool that can be used by many people. UPI students who wants to swim there are charged at Rp. 5.000 for weekdays and Rp. 10.000,- for the weekend. This pool also can be used by the public, but the charge is different, it is Rp. 10.000,- for weekdays and Rp. 20.000,- for the weekend. This pool is open from 08.00 WIB until 15:30 WIB.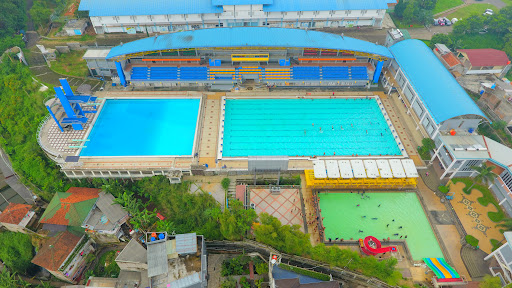 Source: pusatolahraga.upi.edu
Stadium
Stadium UPI is usually used for sports activities, study, also student events. This stadium has a jogging track, football field, facilities for foot therapy, pull up, broad jump, javelin, discus throw, hammer throw, and shot put, also a tribune that can capable of accommodating as many as 500 people.
Indoor and Outdoor Tennis Court
UPI's tennis court has national standards for educational purposes and national tennis competitions. This court is usually used by students of the Faculty of Sports and Health Education. Other than that, this court is also used for softball and baseball practice by students who are members of the campus clubs.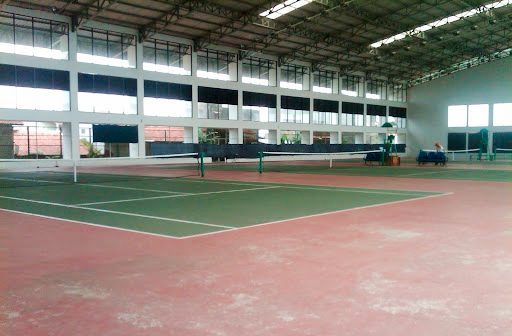 Source: pusatolahraga.upi.edu
Golf Course
UPI Golf Course is one of the facilities and infrastructure provided by the campus to support the needs and needs in sports. This golf course is located in an area near Cilimus. A medium for playing golf with a green grass field makes the atmosphere more relaxed and more beautiful. In addition, this golf course has a unique design. Therefore the golf courses in each place are always different in size; topography with a supportive surrounding environment makes the golf course the most beautiful and most relaxed sporting place because the open nature is specially designed to be a golf arena.
Badminton Court
UPI has a badminton court that is often used for national competitions also other student events. This court is located at sport hall UPI.
Sumber: pusatolahraga.upi.edu
Hockey Court
The hockey court is located at the UPI Gymnasium building, which has been used for national-level competition, such as Pekan Olahraga Nasional.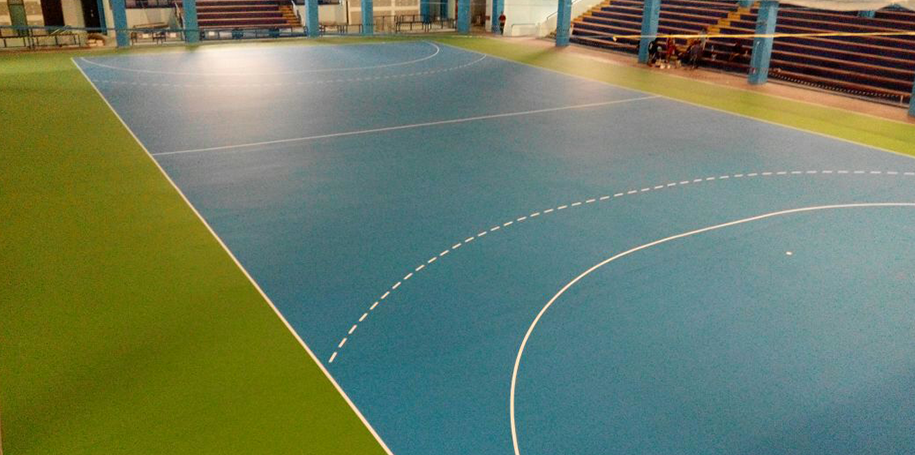 Source: datra.id
Jogging Track
The jogging track is located at UPI Stadium and intended for athletics and running competitions which are commonly used for study or public purposes.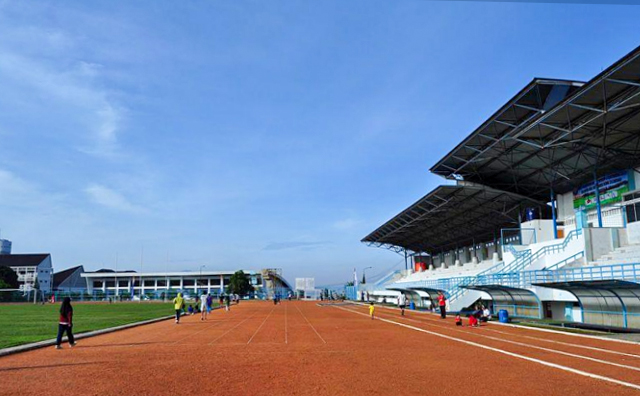 Source: kumparan.com
Basketball Court
The basketball court is located at the UPI Gymnasium building, usually used for study or student events.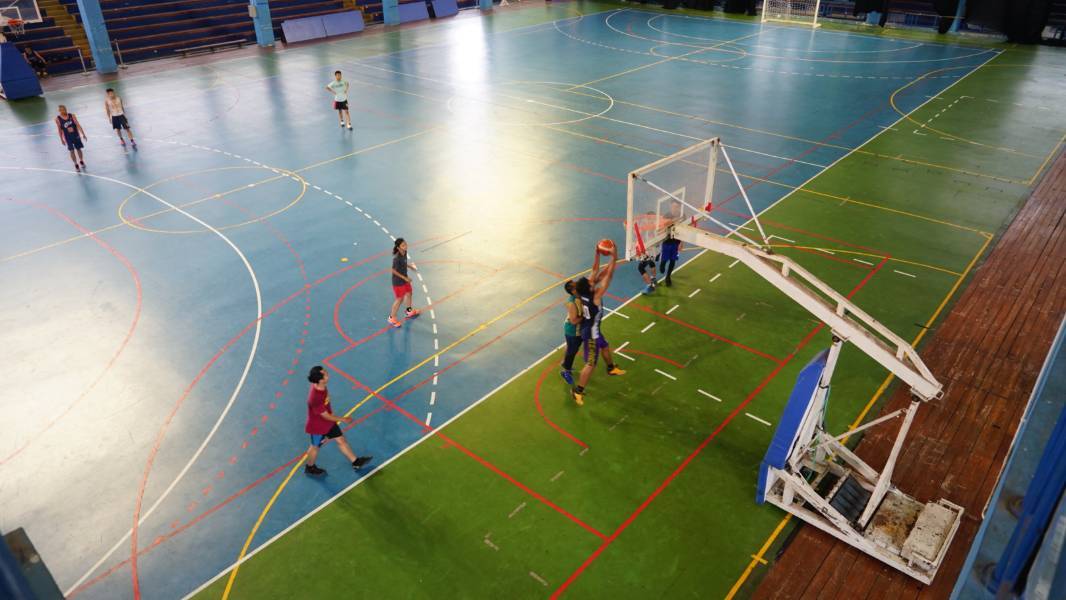 Source: beritabaik.id
Softball Field
Softball fields are usually used for lectures and softball sports competitions.
Al-Furqon Mosque
Al-Furqon Mosque is one of the icons of Universitas Pendidikan Indonesia. Al-Furqon is usually used for Islamic activities carried out by UPI's students and lecturers. This mosque is also open to the public, so this mosque is also often used for the 5 daily prayers and Friday prayers.
Directorate of Systems and Information Technology
The directorate of Systems and Information Technology is an organizer of information system development information technology application services, digital learning technology, and information technology and system security infrastructure.

Language Center
The Language Center is provide facilities for learning a foreign language, especially for UPI academic community and educational staff who will continue their studies abroad. Likewise for administrative staff or foreign students who want to learn Bahasa as a foreign language. Language Center also provides electronic facilities and recordings.
Library
UPI Library is an information center for all UPI residents and the public. There is a reading room equipped with textbooks, journals, dissertations/theses, and other resources. They are open from 08:00-18:00 WIB for Monday-Thursday and 08:00-11:00 WIB dan 13:30-18:30 WIB for Friday.
University Centre
UPI Library is an information center for all UPI residents and the public. There is a reading room equipped with textbooks, journals, dissertations/theses, and other resources. They are open from 08:00-18:00 WIB for Monday-Thursday and 08:00-11:00 WIB dan 13:30-18:30 WIB for Friday. In the UC building, there are secretariats for various UPTs, including UPI Press, UPI Integrated Service Unit, Directorate of International Affairs, and UPI TV.
UPI Education Museum
The National Education Museum is located in the Universitas Pendidikan Indonesia area. It presents how education has been in the past and in the future.
Labschool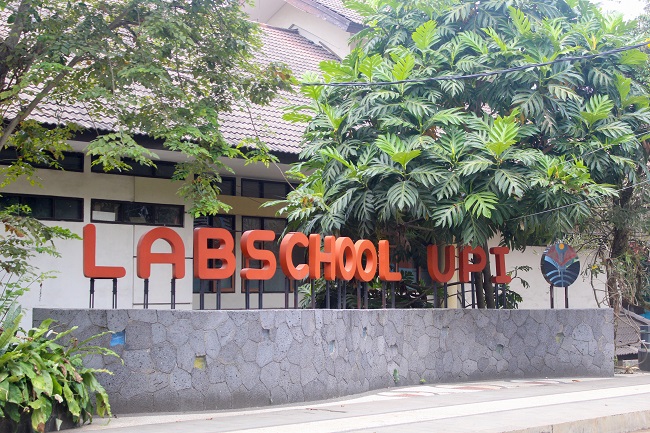 Health Facility
A polyclinic is a place provided by UPI to provide health services for academicians. For treatment at the polyclinic, students just need to attach a photocopy of their student card to get free medical treatment from the Polyclinic. The polyclinic can also be used by the local community.
Gymnasium
Gymnasium Universitas Pendidikan Indonesia is a building that can be used for sports activities. Such as Basketball, Volleyball, Futsal, Table tennis, and Badminton. However, other activities can also be carried out at this Gymnasium, including learning, graduation ceremonies, campus introduction orientations, venues for national and international championships, and other big events.
UPI Garden
This Park is located behind the Rectorate Building of the Universitas Pendidikan Indonesia. This Park is a campus facility that can be enjoyed by anyone. The main entrance is usually passed by two-wheeled to four-wheeled riders and pedestrians. Of course, there are security facilities such as security guards and bus stops to stop vehicles, especially public transportation.
Postgraduate Building
SPs UPI has a vision of Achieving International Recognition in the Implementation of Postgraduate Education in the Fields of Education, Pure Science Education, and Professional Education at the Asian Level in 2025. To achieve this vision and gain international recognition, SPs UPI has taken several concrete steps such as collaborating with academics, national and international education institutions, organizing international programs in partnership with universities abroad, and designing educational programs open to the international community.
Server Room
The server room is a room used to control and control the learning site of the Universitas Pendidikan Indonesia. This room is usually used by lecturers or technicians who are experts in IT or networking. This room provides facilities like a computer laboratory because there are several computers used by technicians.
Banking
Banking activities are facilitated by banking facilities such as BNI Sub-Branch Offices, BJB ATMs, BRI ATMs, and Mandiri ATMs. UPI students also get a combo KTM (Students ID Card), which functions as a BNI debit card and BNI TapCash. These banking services can be used to facilitate various student activities and needs such as paying UKT, paying parking fees, etc.
Rectorate Building
The rectorate building, a building in the architectural style of European and Dutch East Indies design, has become an icon at the Indonesian Education University because of its uniqueness.
The rectorate building that used to be known as Villa Isola has now changed its function after some time. This building with unique architecture has become an icon of the UPI campus. This building has been a silent witness to history – an important history that has happened.
Research Building
This building is known as LPPM, and it is a supporting institution for the University that plays a key role in promoting a positive public perception of UPI's presence and role in the development of the nation's education. This Institute for Research and Community Service is a critical component in developing, expanding, and improving the quality of Community Service Research in order to construct and strengthen community development and learning activities.
BPU Achmad Sanusi Building
BPU Achmad Sanusi Building is a multipurpose building located at the Universitas Pendidikan Indonesia. The name of this building is immortalized with the name of the 2nd rectorate of IKIP Bandung (UPI), Prof. Dr. H. Achmad Sanusi, S.H., M.PA. This building is a multipurpose building that can be used for official events from campus or rented as a wedding hall for the public.
Dormitory
The dormitory is a residential facility for UPI students. There are two dormitory buildings, including one for male students and one for female students. This facility aims to create a place to live conducive for the student to learn in complete their studies on time.