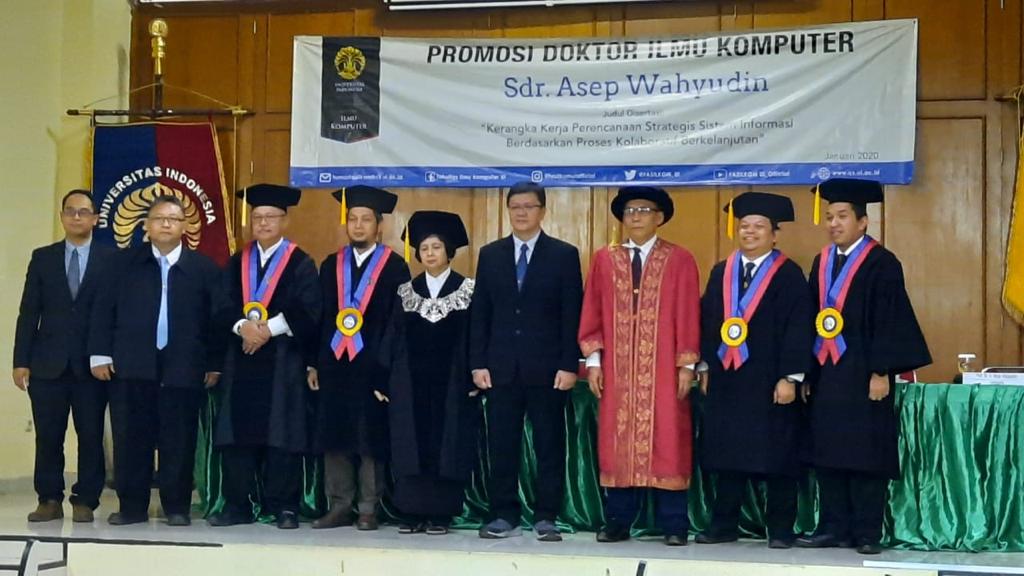 Bandung—Lecturer of Computer Science Education Department, Asep Wahyudin got a doctoral degree from Universitas Indonesian in a doctoral promotion session, last Tuesday (January 7th, 2020).
In front of the judges and promoters in the session that led by Mirna Adriani, Ph.D., Asep was presented dissertation about "Kerangka Kerja Perencanaan Strategis Sistem Informasi berdasarkan Proses Kolaboratif Berkelanjutan" successfully.
Based on his presentation, the arrangement of dissertation was backed by how the information system strategic plan that was a complex process needed the involvement of various human resources in collaboration. The involvement of these resources can trigger various knowledge and collaboration patterns within elements. In the implementation, this research resulted in an operational framework that contains eight work steps that can minimize the complexity process with building an application system to make it easier.
When asked about future plans after getting a doctoral degree, the lecturer that is usually called Away said that he will still have a career in the Computer Science Education Department of UPI, especially in lecture and research about information systems. He always mentioned that his dissertation will be a part of the information system laboratory research topic. Until now, there are five thesis from students of the Computer Science program that resulted from the development of this strategic plan information system research topic.
"In the future there will be various kinds of research topics in the information system laboratory," revealed him, in the interview, last Saturday (January 11th, 2020).