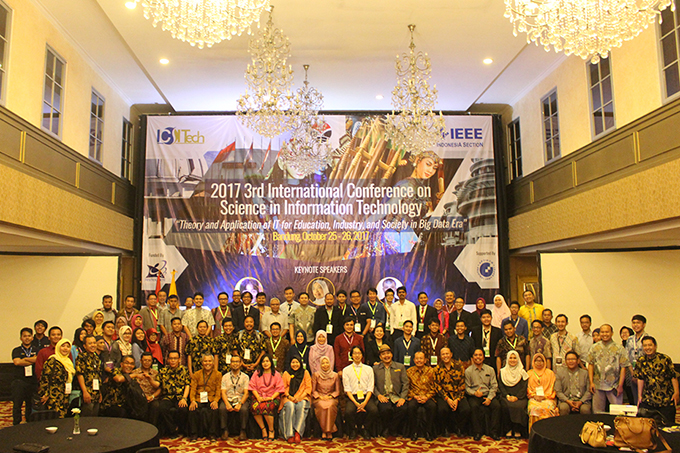 The Department of Computer Science Education, FPMIPA, Universitas Pendidikan Indonesia (UPI) hosted the 2017 International Conference on Science in Information Technology (ICSITech) activities. The conference lasted for two days, precisely on 25-26 October 2017 at the GH Universal Hotel, Bandung. This annual conference is a collaboration between UPI and partner universities, those are Universitas Ahmad Dahlan, Universitas Mulawarman, UPN "Veterans" Yogyakarta, Universitas Muhammadiyah Surakarta, UTM Big Data Center, Universiti Teknologi Malaysia, Universiti Putra Malaysia, Universiti Malaysia Sabah, and Universities Nobility.
The conference sponsored by IEEE Indonesia Section, APTIKOM West Java and funded by Kemenristekdikti, has the theme "Theory and Application of IT for Education, Industry, and Society in the Big Data Era". In the main session of the conference, there were three keynote speakers, they are Prof. Dr. Tsukasa Hirashima (Japan), Prof. Dr. Halimah Badioze Zaman (Malaysia), and Prof. Ir. Dwi Hendratmo W., M.Sc., Ph.D. (Indonesia). At the parallel session, 131 articles were presented for various computational scientific scopes. In total, the conference involved more than 100 researchers from various countries including Indonesia, Malaysia, Japan, Thailand, Nigeria, Saudi Arabia, Colombia, Australia, India, Myanmar, Pakistan, and the Philippines.
The level of article acceptance ratios at ICSITech 2017 led by Prof. Dr. Munir, M.IT. this is very strict, reaching 34.7 percent. Since ICSITech was first in 2015, all articles from the conference have been published by IEEE through the IEEE Xplore Digital Library and indexed by SCOPUS. Likewise in the third ICSITech this year, it is considered to be re-published and indexed by the same publisher.
According to the plan, the fourth ICSITech 2018 will be held in Malaysia with the host of Universiti Teknik Malaysia Malaysia (UTeM).
@Red