Seni Siti Inayah, Putri Zukhruf Dinata, and Shandini Aprilliany are three of Computer Science Education Students who won a gold medal in the "Eduaction 2.0" branch of the teaching simulation competition. Eduaction 2.0 is a competition for students from all across Indonesia hosted by KBMPTI, Faculty of Computer Science, Universitas Brawijaya. There are two competition branches in this education-themed competition: an essay competition and a teaching simulation.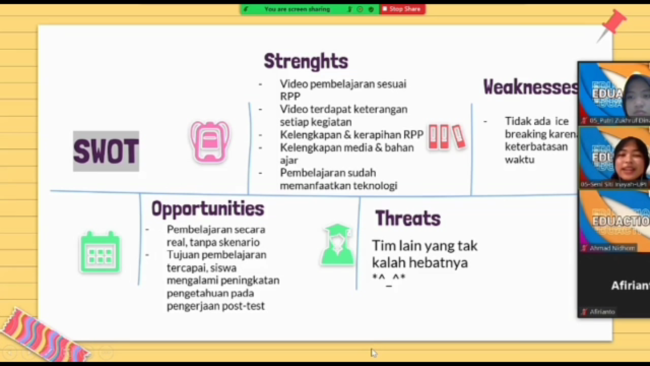 Figure 1. Final Round Presentation
The Strongirly team's gold medal victory was not a fluke. The team who previously won the microteaching competition at DIMAS-TI AMLI 2021 are specialists in the field of microteaching or teaching simulation, based on their track record. Furthermore, the Strongirly team's preparations were not simple; the coaching provided by Mr. Herbert Siregar, M.T. was intensive, and constant progress was the key to winning in the Eduaction 2.0 competition. The Strongirly team presented the sub-theme Teaching Simulation for IT Vocational Schools in this teaching simulation competition by presenting a hotly debated concept, namely learning informatics for high school students in class X regarding computational thinking, using a problem-based learning model.
Even though they had previously won the microteaching competition, Seni and her colleagues stated that they were still nervous when the finalists were announced. "At the time, the notification of qualifying for the top 5 on the 5th of november was already really nerve-wracking." recalled Seni, Strongirly's team leader. "since on the 6th there was a technical meeting, then on the 7th they had to do the presentation." as the last round approached, Seni and her friends admitted to being nervous, but they were able to breeze through it with the support of many sides. "Thank God we got support from many sides. The 6 day schedule is really a maximum, and 2 days of video editing for a decent video," member of the Strongirly squad, Putri, stated.
In the final round, Seni and her team do online presentations through a virtual conference. They revealed that they encountered many obstacles and became increasingly nervous, but managed to get through the final round and received quite positive comments from the judges. "There are a lot of obstacles, actually, and I am really nervous too, but thank God we can get through. The jury's comments are also good, they can make us grow even more," said Seni.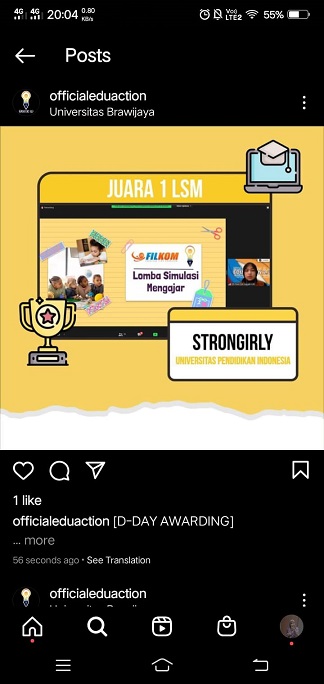 Figure 2. Winner Announcement
Seni said that she first learned of the award through social media on the day of the announcement, and she and her teammates were invited to participate in a video conference for the presentation. They expressed their delight at winning a gold medal for the second time and bringing honor to the UPI Computer Science Education Department. "I was overjoyed when I got a call from Seni at that time, thank God, saying we had won first place, even though I was a little skeptical because the competition was fierce." Putri remarked.
Congratulations to the Strongirly team for acquiring the gold medal and making the Department of Computer Science Education proud. Hopefully, it can be an encouragement to continue to excel and be an encouragement for other fellow students in the Department of Computer Science Education.
Writer: Arfiansyah Sucitra