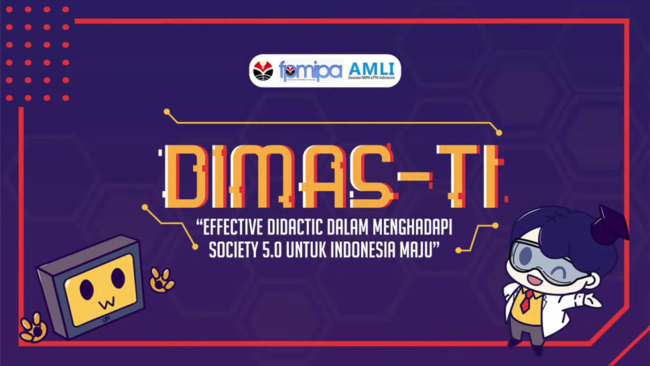 The DIMAS-TI AMLI 2021 Grand Final was held after the online elimination was conducted. DIMAS-TI AMLI is an event managed by Association of Mathematics and Natural Science (MIPA) Educational Personnel Education Institute (LPTK) Indonesia (AMLI). This program seeks to empower the skills of Indonesian students so that they can act as agents of change in improving ICT and Education and its utilization, both during their studies and after graduation. The theme of DIMAS-TI AMLI 2021 was "Effective Didactic in Facing Society 5.0 for Advanced Indonesia".
DIMAS-TI competition is the first yearly event available to 12 LPTKs. Six LPTKs, namely Universitas Pendidikan Indonesia, Universitas Pendidikan Ganesha, Universitas Negeri Surabaya, Universitas Negeri Yogyakarta, Universitas Negeri Jakarta, Universitas Negeri Semarang, and Universitas Negeri Padang, took part in this inaugural activity, which was organized by the Department of Computer Science Education FPMIPA UPI.
The Grand Final round took place over two days on July 26-27, 2021. The activities began on the first day with the singing of the Indonesia Raya anthem and welcome remarks from Erlangga, M.T., as CEO, Prof. Dr. Tatang Herman, M.Ed., as Dean of FPMIPA UPI, and Dr. Yulkifli, M.Si, as Chairman of the Indonesian LPTK MIPA Association (AMLI). Zoom Meetings were used to conduct a live, online presentation and judgment of each of the four subjects. The presentation and judging session went smoothly and did not encounter any significant problems.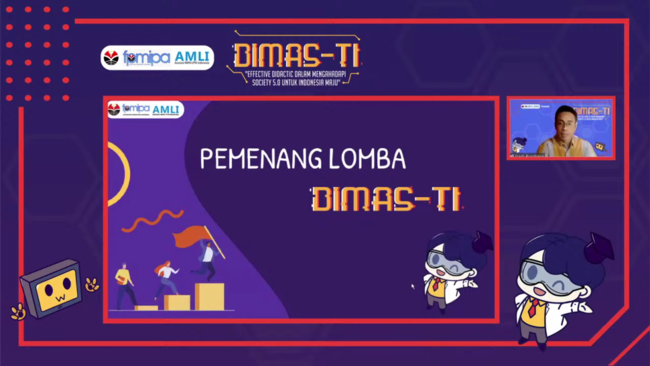 An awards ceremony was conducted on the second day of the Grand Final to announce the competition winners and reward winners with certificates. Each competition subject's winner will also get a monetary reward of IDR 3,000,000.00 for first place, IDR 2,000,000.00 for second place, and IDR 1,000,000.00 for third place. Universitas Pendidikan Indonesia won the general champion award with one gold medal, two silver medals, and one bronze medal.
Teams from the Department of Computer Science Education also contributed medals, contributing one gold medal in the Microteaching competition, one silver medal in the Microlearning competition, and one bronze medal in the CT with STEM competition. The complete list of winners can be seen in the following table:
| | | | |
| --- | --- | --- | --- |
| | Microteaching | Mucrolearning | CT with STEM |
| First place | Strongirly (UPI) | Matrik's Jaya (UNDIKHSA) | Meilita Unnesille (UNNES) |
| Second place | FMIPAJOSS (UNESA) | BRAINE (UPI) | TasVE (UPI) |
| Third place | Srikandi (UNESA) | Undikhsa 1 (UNDIKHSA) | SSKE (UPI) |
Congratulations to the champions. Hopefully the students of the Department of Computer Science Education will continue to excel in future competitions.
Writer: Arfiansyah Sucitra