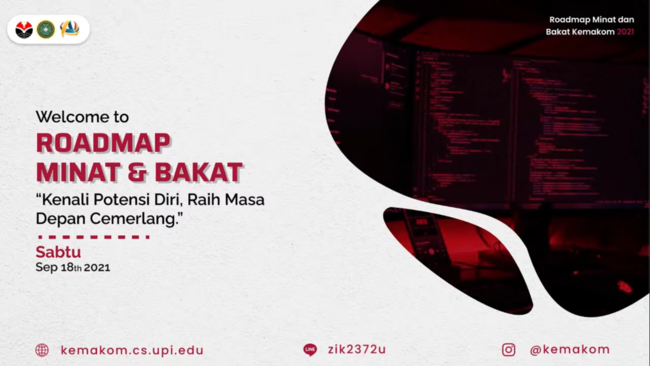 BEM Kemakom hosted a webinar titled "Roadmap of Kemakom's interests and talents 2021" on September 18, 2021. This is one of the Kemakom Interest and Talent Development Division's new program. This program was designed in response to students' lack of understanding of professional options, particularly among freshmen students. To assist post-college life, a broad professional understanding is required. This initiative is also a collaboration with the Department of Computer Science Education's Alumni Association to assist students prepare for a job as early as feasible.
The Interest and Talent Roadmap this time focuses on a variety of professional options, including information technology support, software engineer, and data scientist. Later, every student in the Department of Computer Science Education will have access to information and counseling on this career route via the Kemakom website.
Rizal Teddyansyah, the chief executive, Fadjrin Diraja Muhammad, the chairman of the BEM Kemakom, and Herbert Siregar, M.T., a representative of the Department of Computer Science Education UPI, gave opening remarks at 13:00 WIB. He greeted the audience warmly and encouraged audience to pursue their interests, abilities, and privileges in order to have a great career.
The event moved on to the presentation session after the remarks. There were three presenters at this activity's presentation session. Desphi Satria Nurjaya, S.pd. was the first speaker, and he presented material on software engineering and software quality assurance. He also shared his two years of software quality assurance experience. "As a Software Quality Assurance Engineer, I ensure and provide the highest possible product quality in accordance with the objectives and expectations established at the outset."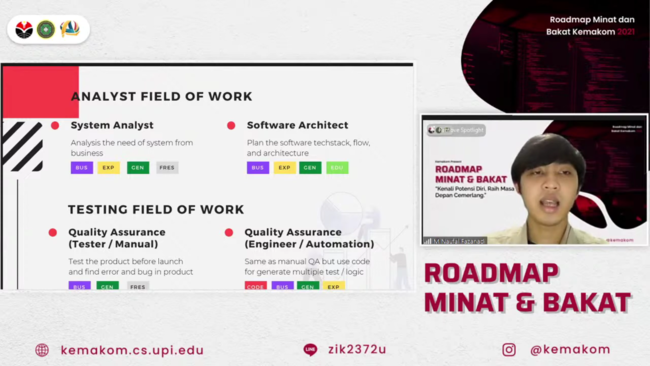 Muhammad Naufal Fazanadi, S. Kom, is the second speaker. He classifies all career options available to a computer science graduate into many tags or categories, including CODE, which stands for Coding Related, DES, which stands for Design Related, and EDU, which stands for Higher Education Required. He also disclosed the talents required for a certain field of work, as well as groups of fields with related requirements.
Dr. Rani Megasari, S. Kom., M.T., the final speaker, covered a wide range of topics as a lecturer. "A lecturer is a professional educator whose principal goal is to change, develop, and disseminate information," she explained.
Following the presentation, a talk show with the participants was held to further the topic and allow students to engage in direct discussions with practitioners in the technology and education industries. In line with the purpose of this work program, which is to provide an overview and insight to active Computer Science Education Department (Depilkom) students about career paths for graduates of Computer Science and Computer Science Education study programs, this work program is expected to serve as a bridge for Computer Science Education Department (Depilkom) students to determine their future.
Writer: Arfiansyah Sucitra