Department of Computer Science Education (Depilkom) hosted LIDM 2021 Socialization to encourage Depilkom students to participate in LIDM 2021. This competition hosted by National Achievement Center, Ministry of Education, Culture, Research, and Technology (Kemendikbud Ristek) as a comprehensive effort to enhance Indonesian students' soft skills and technical literacy.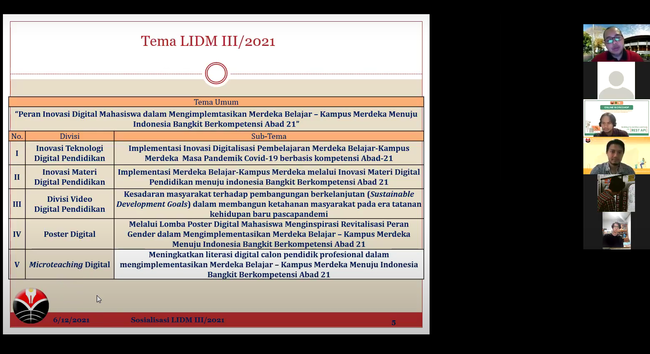 In this socialization, Mr. Eddy Prasetyo Nugroho, M.T, keynote speaker who is also a judge at LIDM 2021, explained about LIDM 2021 and the benefits for the students in participating in this event. He also explained the competitions in LIDM 2021, including Educational Digital Technology Innovation (ITDP), Educational Digital Material Innovation (IMDP), Educational Digital Video (VDP), Digital Posters (PD), Digital Microteaching (MD).
In addition, he highlighted that the 2021 LIDM is a national level competition with a large number of participants, as seen by the statistics of the LIDM 2020 participants presented.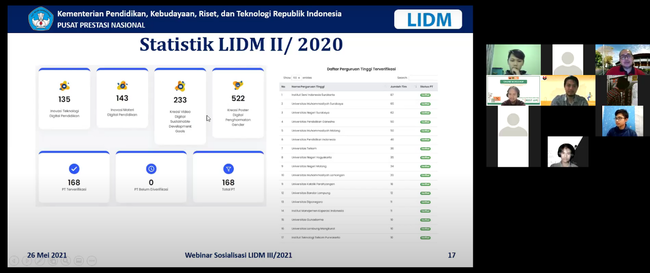 He also highlighted that even in the intense competition, students should stay optimistic. "Despite the fact that there were 522 digital poster competition registrants last year, we still won, so guys, you have to be confident," he added.
Furthermore, several finalists and winners of LIDM 2020 competition also gave some advice on competing in the LIDM 2021 event. "Look for ideas from the challenges around you, and ask yourself if it matches this year's subject," said Dimas Anom Priyayi, 2nd winner of the Digital Education Technology Innovation (ITDP) division last year.
Writer: Arfiansyah Sucitra