The Google Developer Student Clubs (GDSC) Chapter of Universitas Pendidikan Indonesia once again held a talk show which was open for public. Taking the theme of UI/UX, this talk show is entitled "How to Start Career in UI/UX Field" and invites 3 speakers who are very experienced in the field of UI/UX including Ahmad Banyu Rachman (UX Engineer at Blibli), Endah Nursalehah (UX) Researcher at Jabar Digital Services), and Mohammad Army (Lead UX Designer at OnlinePajak).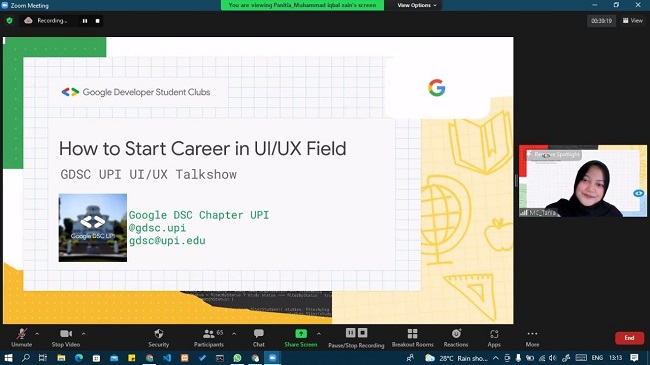 Figure 1. Opening of the Talk Show "How to start career in UI/UX Field"
Moderated by Fikri Cahya Muharram (Student of Education Administration Class of 2019), in the first session the three speakers told about their respective fields as well as answered questions previously prepared by the committee. A lot of information can be obtained from the stories that the speakers describe, especially about how the development of UI/UX in Indonesia is.
Based on the stories from the three speakers, at first the term UI/UX was more commonly referred as a web designer. It was only in 2016 that the term UI/UX became popular in line with the increasing number of startups in Indonesia.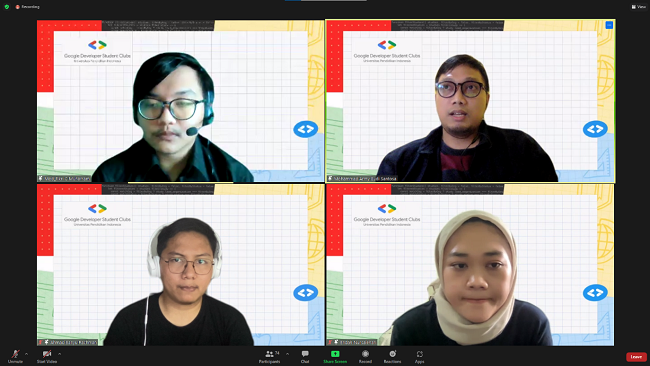 Figure 2. Talk Show session with the three speakers
In the field of UI/UX itself, there are various roles with different work focuses. Quoting from medium.com, several roles in the UI/UX field include UX Copywriter, UX Designer, User Interface (UI) Designer, Graphic Designer, UX Engineer, Lead Designer, and Product Manager.
Furthermore, in the question and answer session, each speaker told the activities, focus of work, and the skills needed to be prepared from an early age to be able to work in the UI/UX realm. According to Army, in addition to preparing a portfolio that is in accordance with the UI/UX field, skills in making a Curriculum Vitae (CV) and skills in sending emails to recruiters properly and correctly also need to be considered.
"Actually, before you focus on your portfolio, you also need to focus on how to write a CV and how to send an email to recruiters properly, because sometimes you don't pay attention to that," said Army.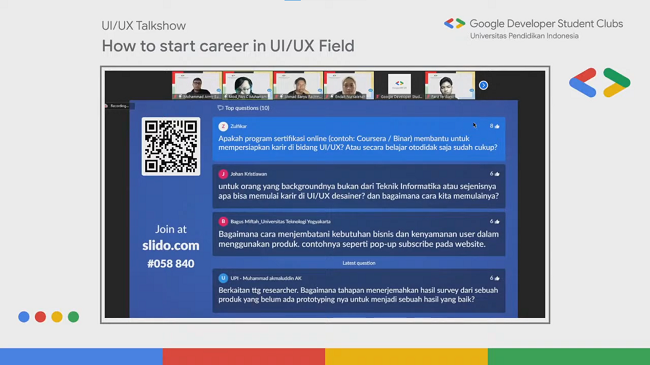 Figure 3. Q&A Session with speakers
It is hoped that with this talk show, more people, especially students from the Computer Science Education Department, are interested in exploring the UI/UX field in the future.
"I am very happy to be able to join the UI/UX talk show organized by GDSC (UPI), with this talk show I have gained insight on how to have a career in the UI/UX field," said one of the participants of this talk show.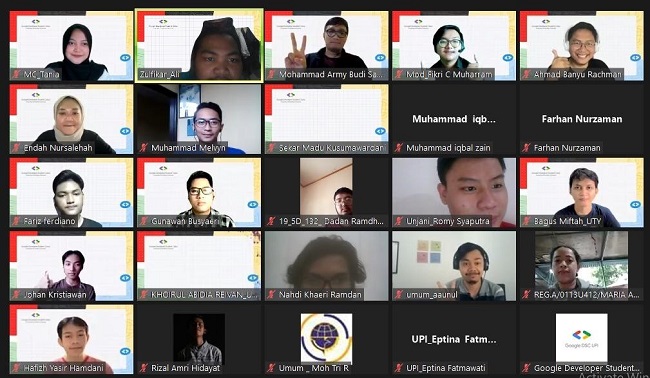 Figure 4. Documentation session
The How to Start Career in UI/UX Field talk show was held on February 27, 2022 at 01.00 p.m using the Zoom conference media and broadcasted live on the GDSC UPI Youtube channel. This activity can be watched again via the GDSC UPI youtube channel or via the following link
How to Start Career in UI/UX Field talk show
Writers: Muhammad Cahya